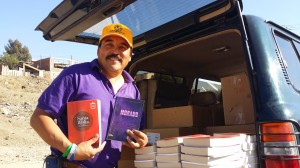 At BCM we operate a Discipleship and House Building program which is always in need of donated items to help our workers in the field do the jobs that God has called them to.  All non-monetary tangible gifts must be pre-approved by BCM.  Please contact us before shipping tangible goods in order to discuss their usefulness to our ministry.
Most Needed Items:
Vehicles (Preferably trucks, SUV's, vans, or passenger vans that are in good working order)

Smartphones/Tablets (Preferably phones that can be used on the  T-Mobile, AT&T, or Telcel)

Laptop/Desktop Computers

Carpentry Tools
Tax Benefits
To insure that you receive your tax-deductive benefit of your gift in kind donation we encourage you to consult the IRS, CPA, or other tax professional.  There are certain stipulations that govern the donation of gifts in kind to non profit organization.  Baja Christian Ministries is a registered 501(c)(3) non profit organization.
IRS Form 8283 is available for donations over $5,000.  To help determine the value of donated item check out IRS publication 561.
Direct any questions to our contact us page or call the BCM office at 909-627-4339